Hany Nasr, MD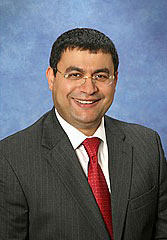 After receiving his medical education from one of the oldest and most renowned medical schools, Kasr El-Aini Faculty of medicine, Cairo Egypt Dr. Nasr then continued on his residency and double fellowships in the US, during which time he published multiple papers. He completed a prelieminary year of surgical residency then a primary residency at SUNY Stony Brook in New York, where he was elected Chief Resident. Next, he went on to finish the first of two fellowship in spine intervention at Cedars-Sinai Medical Center Institute for Spinal Disorders in Los Angeles, California. That was then followed by a second fellowship in Pain Management at the University of Pittsburgh Medical Center Department of Anesthesia in Pittsburgh Pennsylvania, Dr. Nasr is double board-certified with the American Board of Physical Medicine and Rehabilitation with a board subspecialty in Pain Medicine, After finishing his second fellowship, Dr. Nasr and his family now reside in Visalia, California. His hobbies include fixing up old cars, playing squash, and playing golf.
Publications:
"Predictors of Outcome Following Hip Fracture Rehabilitation", J.Semel, J. Gray, Hyeong Jun Ahn, H. Nasr, John J. Chen , 2010 American Academy of Physical Medicine and Rehabilitation.
American Society of Regional Anesthesia and Pain Medicine, April 2010, Asra - "Spinal Cord Stimulator for Chronic Pelvic Pain Secondary to Bladder Pain Syndrome or Interstitial Cystitis". M.Mikhael, M.D.*, W. Barreto, M.D.**, H. Nasr, M.D.**
American Society of Regional Anesthesia and Pain Medicine, November 2008, "Stability of Ziconotide with Other Medications Including Hydromorphone Hydrochloride, Clonidine and Baclofen In Intrathecal Pumps in Advanced Pancoast Tumor". H. Nasr M.D., N. Rizk M.D., Department of Anesthesiology University of Pittsburgh Medical Center.
American Society of Bone and Mineral Research, 29Th Annual Meeting, Journal of Bone and Mineral Research, Vol 22 Suppl 1 September 2007. "Prevalence of Vitamin D and Calcium Supplementation Following Low Impact Hip Fracture: A Three Year Retrospective Analysis of Acute Care and Rehabilitation Facility Prescribing Practices H. Nasr, J Semel. Department of Physical Medicine and Rehabilitation, St. Charles Hospital, Suny At Stony Brook."
National Osteoporosis Foundation, 7th International Symposium on Osteoporosis, Translating Research into Clinical Practice, April 2007. "Gender Differences in Post Hip Fracture Recovery at a Large Acute Inpatient Rehabilitation Facility." Jennifer J. Semel, M.D., Hany Nasr, M.D., Michael Scicchitano, BS, Denise Jaferis, MA.
E-Medicine, Review Article April 2006. "Neonatal Brachial Plexus Palsies" Jennifer Semel-Concepcion, Hany Nasr, Anne Conway, Carlos Concepcion, Teresa L Massagli, Francisco Talavera, Kat Kolaski, Kelly L Allen, Consuelo T Lorenzo.
International Journal of Radiation Oncology, October 2003. "Phase I/II Fractionated Stereotactic Radiotherapy and Weekly Paclitaxel In Malignant Gliomas" H. Ashamalla, B. Zaki, H. Nasr F. Colella, D. Dosik, M. Krishnamurthy, W. Vance, N. Saad and A. Guriguis.